The Seljuk Han of Anatolia
HACI HAFIZ HAN
---
A small service-oriented han on the busy Konya road; built with numerous spolia stones.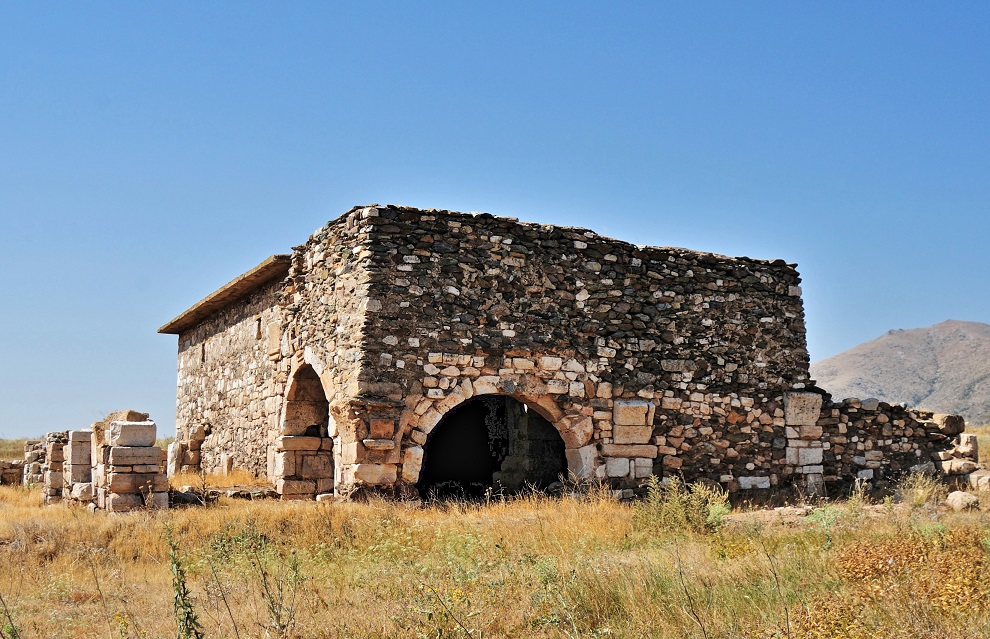 photo: Ahmet Kuş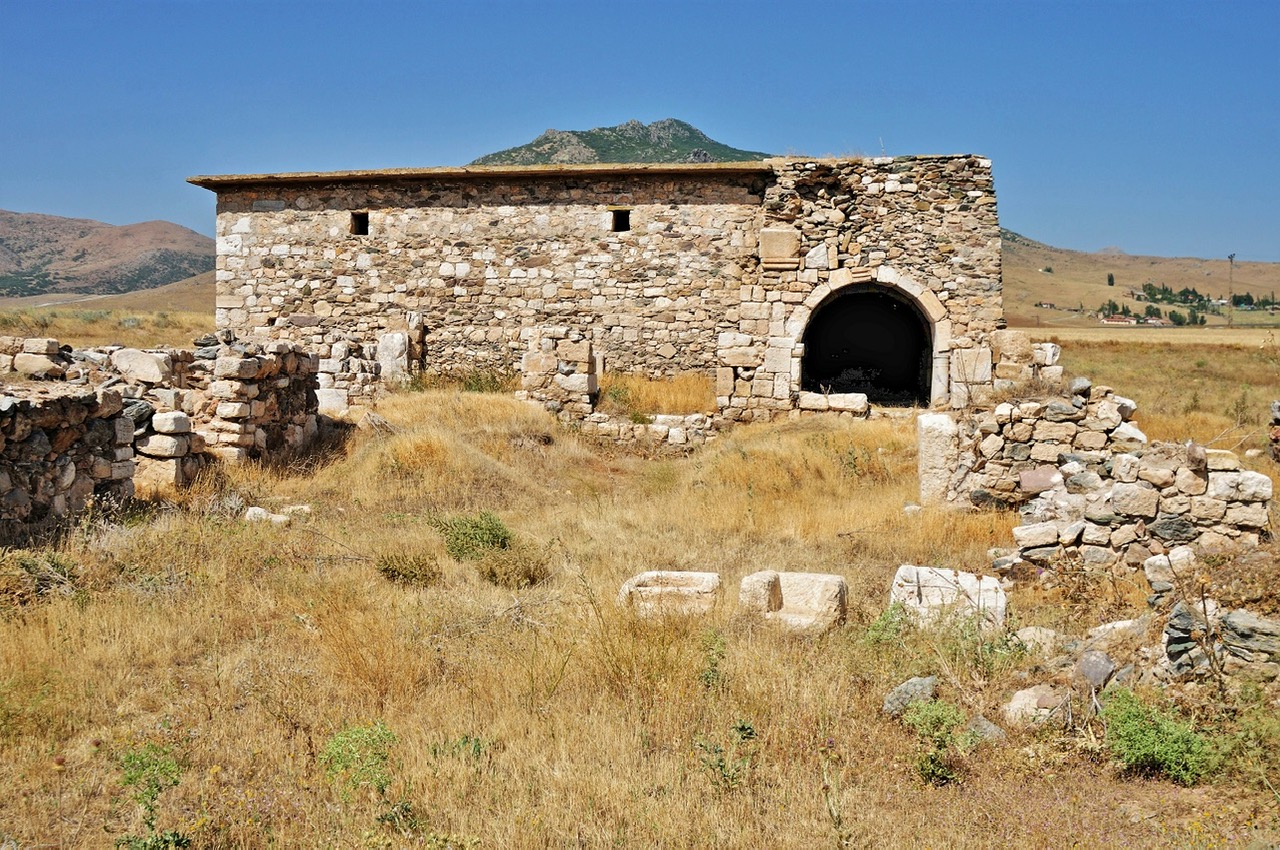 photo: Ahmet Kuş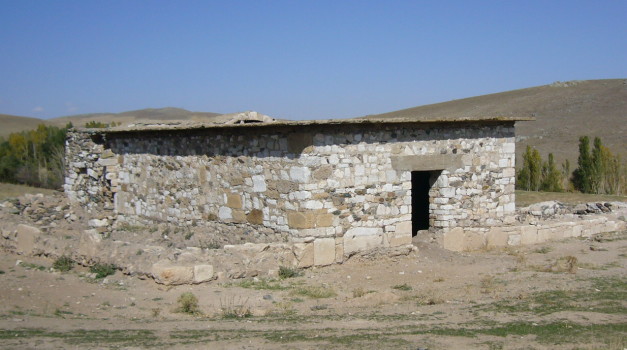 View of han from west (covered section wall; door added at a later date)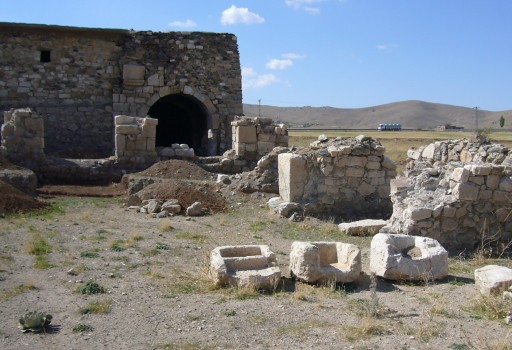 view of courtyard and covered section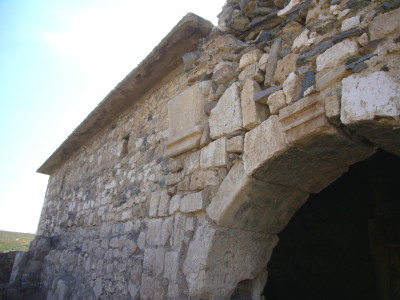 reuse stones in circular arches at entry to covered section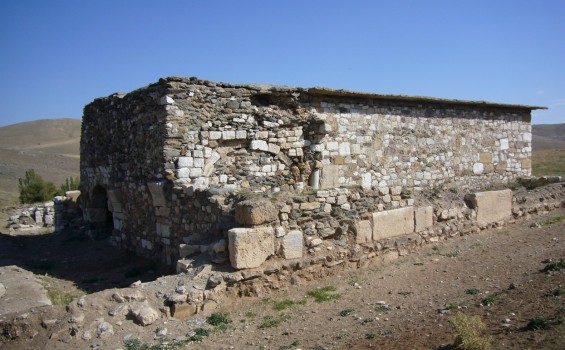 rear view of covered section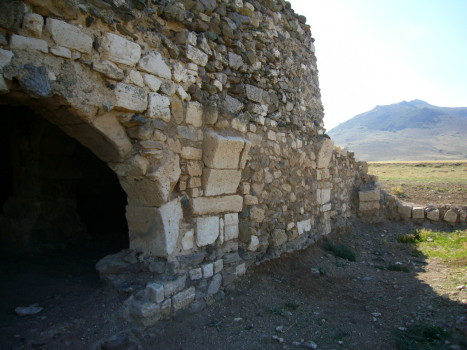 collapsed eastern aisle of covered section
DISTRICT
42 KONYA

LOCATION
38.128735, 32.495293

The Haci Hafiz Han is located on the Konya-Afyon Road, approximately 8 km east of the Dokuzun Han. It is 100m on the right side of the road when driving east, near the village of Bağrikurt.
NAMES
It is also known as the Bahri Han.

DATE
The han is similar in plan and decoration to the nearby Dokuzun Han, as well as the Altinapa and Eli-Kesik hans in the Konya region. It is probably thus of a similar date (1201-1225).
REIGN OF
Giyaseddin Keyhüsrev I

INSCRIPTION
There is no inscription plaque.
PATRON
Unknown, although due to its name, it can be assumed that it was built by a certain Haci Hafiz, probably a private patron.
BUILDING TYPE
Covered section with an open courtyard (COC)
Covered section and courtyard of the same width
Covered section with 5 parallel naves perpendicular to the rear wall
7 lines of support cross vaults parallel to the rear wall

DESCRIPTION
This han turns its back to the current road and faces south, which leads us to believe that there must have been a different caravan road in use at the time of construction.
Like the Dokuzun Han, this is a very simple han in plan and decoration and fits into the Konya group of small and service-oriented hans. The main door is in the axis of the central aisle of the covered section. This han was on the Konya-Afyon trade route. The preceding han was the Dokuzun han, and the next stop after this han was the Raziye Sultan Han.
Courtyard:
There are a considerable number of feeding and watering trough stones in the courtyard.
The courtyard has two different sets of side aisles. The aisle to the west houses 4 covered cell-like rooms which were probably used for the storage of goods, while the eastern side of the courtyard contains an open arcade of 6 open cells, probably for the stabling of animals.
Covered section:
Two raised stone platforms (seki) are located at the entrance to the covered section, and served as platforms to ease loading and unloading of packs from the animals.
Dr. Ayşil Tükel Yavuz believes that the covered section of the han was not constructed of semi-circular arches, but was comprised of pierced walls for air circulation and decoration.
DECORATION
Like most of the Konya group hans, this han is constructed with considerable spolia (reuse) stones from Byzantine Christian and antique monuments.
DIMENSIONS
This is not a particularly large han:
Total external area: approximately 385m2.
Covered section area: 250 m2
Courtyard area: 135m2

STATE OF CONSERVATION, CURRENT USE
The northern wall of the covered section has collapsed. The han is in good condition and may be visited. It sits in an open field in a peaceful rural setting of a fields and poplar trees.

BIBLIOGRAPHIC REFERENCES
Erdmann, Kurt. Das Anatolische Karavansaray des 13. Jahrhunderts, 1961, pp. 62-63 no. 17.
Özergin, M. Kemal. "Anadolu'da Selçuklu Kervansarayları", Tarih Dergisi, XV/20, 1965, p. 151, no. 48.
| | |
| --- | --- |
| | plan drawn by Erdmann |
| Photo by Erdmann (#78) | Photo by Erdmann (#77) |
rear view showing collapsed eastern aisle of covered section

Rear view of covered section

Rear view of covered section, seen from the west

rear view of covered section showing spolia stones

Overview of courtyard looking towards covered section

Overview of courtyard looking from covered section

View from covered section onto western arcades of courtyard

detail, arch at covered section entry

circular arch reuse stones

Reuse stone in covered section

covered section, reuse stone pillar

covered section, reuse pillar

eastern side aisle of covered section, now collapsed

covered section arch detail

reuse stones in covered section wall

reuse stone on outer western wall

View from front door of han
©2001-2021, Katharine Branning; All Rights Reserved. No part of this site may be reproduced in any form without written consent from the author.