Haydar Bey Kösk
Argincik (Kayseri) Turkey
---
The Haydar Bey Köşk is a small pleasure pavilion, probably used in the summer to escape the heat and enjoy the countryside. It is located in Argincik, a suburb of Kayseri, in the middle of a fertile field of sunflowers.
Its inscription plaque as been lost, but it was most certainly built during the late Seljuk period at the time of the Ilhanli-Eratna Beylik, by a certain Emir Haydar Bey, who died in 1349.
The L-shaped plan comprises an offset entry, with a tower-like entry room containing steps leading up to a roof terrace. The staircase comprises an intricate stone landing carved in the shape of a radiating fan. The tower room gives onto a large central hall. There are 2 rooms on the east side and 4 rooms on the west side, entered by small doors with carved architraves. The kiosk resembles a small castle, but the sober decoration and the peaceful setting lend it an intimate nature.
This kiosk is the only existing example of Seljuk domestic architecture.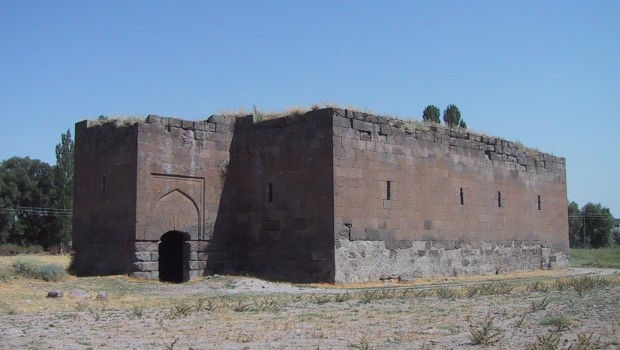 general overview from the northwest, 2005
| | |
| --- | --- |
| offset entrance | terrace over tower room |
| tower room steps leading to terrace | carved fan-shaped landing of steps to terrace |
| view onto the middle hall | middle hall, view to the south |
| west wall of middle room, with entries to side rooms | carved entry door to side room |
©2001-2019, Katharine Branning; All Rights Reserved. No part of this site may be reproduced in any form without written consent from the author.