The Seljuk Han of Anatolia
DOKUZUN HAN
---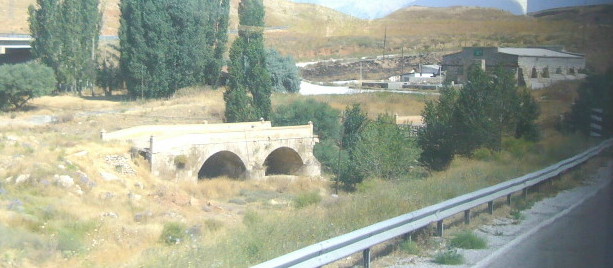 Overview of Seljuk bridge and han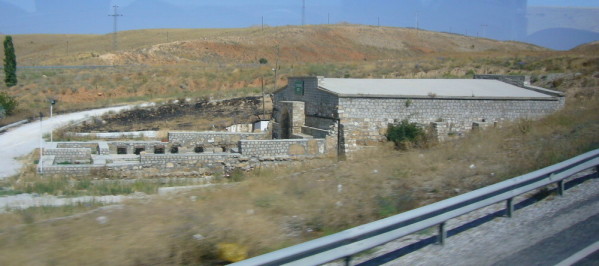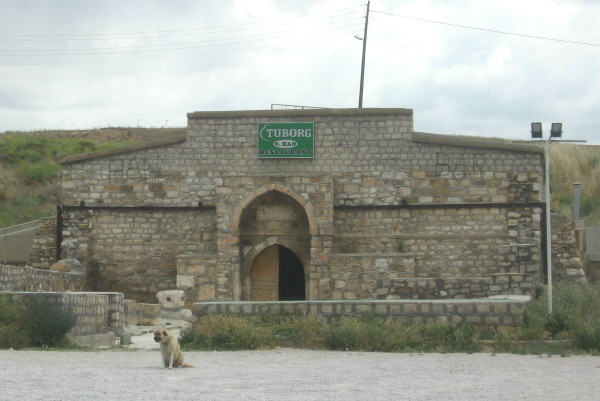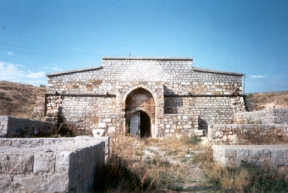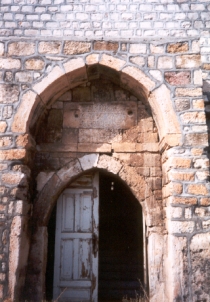 Main portal with inscription plaque (kitabesi)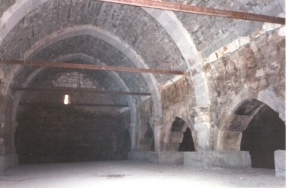 Cells in covered section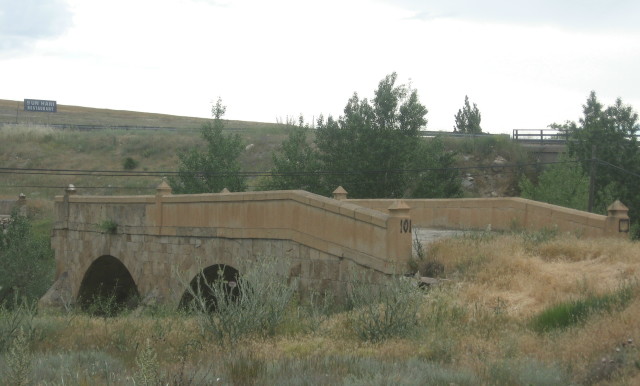 Remains of a Seljuk bridge nearby
DISTRICT
42 KONYA

LOCATION
The Dokuzun Han is located on the Akşehir-Konya Road, 18 miles north from Konya, on the left, in the town of Dokuzun.

NAMES
Dokuş-Derbent Han

DATE
1210 (dated by the inscription)

REIGN OF
Giyaseddin Keyhüsrev I
INSCRIPTION
An inscription plaque of 5 lines in 3 pieces of stone over the hall door states that it was "Built in 1210 during the reign of Giyaseddin Keyhürev I on the orders of Haci Ibrahim" and goes on to give the name of the architect, Haci Osman ibn Abderahman.

PATRON
Built as a charitable foundation supported by the Emir-ı İğdişan Hacı ben Ebu Bekr, a private patron.

BUILDING TYPE
Covered section with an open courtyard (COC)
Covered section and courtyard of the same width
Covered section with 3 naves, perpendicular to the rear wall
5 lines of support cross vaults parallel to the rear wall

DESCRIPTION
The han faces north. The han lies parallel to the road, set among stunning countryside, with the door facing Konya.
The courtyard section in front has almost completely disappeared.
This han is interesting because of its inscription, which gives names of both the patron and architect.

DECORATION
This han is totally void of decoration. There is a tandir oven in one of the rooms.
DIMENSIONS
Total area: 700m2
Area of hall: 290m2
Area of courtyard: 315m2

FIELD NOTES
The han is located next to what appears to be a Seljuk Bridge.

STATE OF CONSERVATION, CURRENT USAGE
The han has been restored and repaired in the 1990s and is now in use as a café (with a regrettable sign advertising a famous mark of beer over the door).

BIBLIOGRAPHIC REFERENCES
Acun, p. 490.
Bektaş, pp. 84-85 (pre-restoration photos).
Erdmann, pp. 36-19, no. 4.
Hillenbrand, fig. 6.63, p. 553.
Karpuz, Kuş, Dıvarcı and Şimşek (2008), vol. 2, p. 82.
Kuş Selçuklu, pp. 185-186.
Rice, p. 206.
Yavuz (1997), p. 95 footnote 39.
©2001-2017, Katharine Branning; All Rights Reserved. No part of this site may be reproduced in any form without written consent from the author.