The Seljuk Han of Anatolia
EL-BARUR HAN
---
Although not built by the Seljuks, this Ayyubid han bears all the marks of a Seljuk han.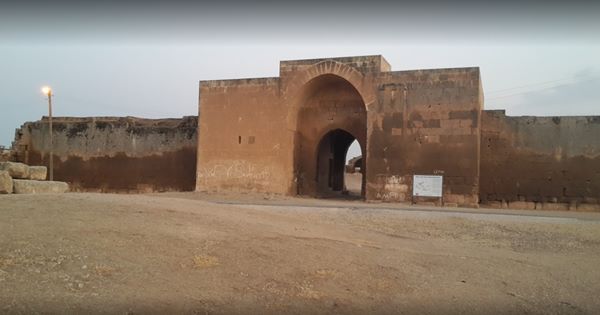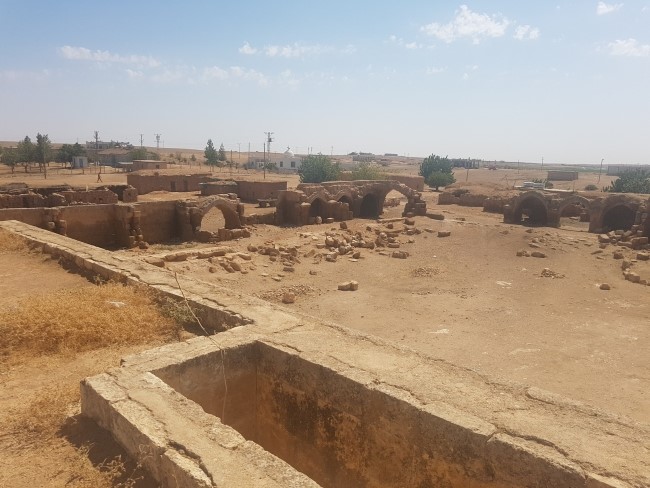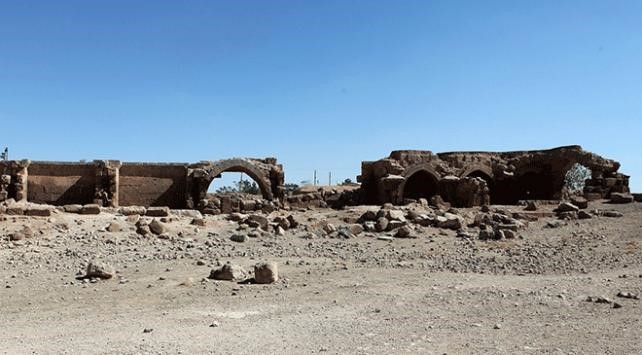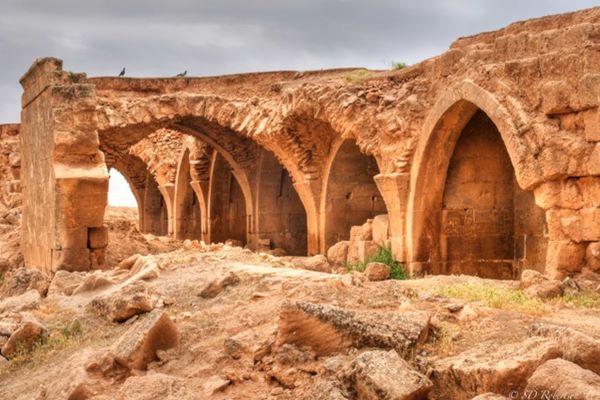 DISTRICT
63 SANLIURFA
LOCATION
36.825386, 39.290173
The Han El-Barur is located 27km to the southeast of Harran in the village of Göktaş. It dates from the Ayyubid period and served the Ani-Harran-Baghdad caravan route which then connected to Aleppo, Raqqa and Baghdad.
NAMES
The han bears an unusual name: the word Barur signifies 'goat droppings' in Arabic.
DATE
Two inscription plaques were found. The one above the entry door states that it was built in the year H. 626/M. 1228-1229 by İsa son of el-Hac Hüsameddin Ali H.626/M. 1228-1229. During this period, the region was under the control of the Ayyubids.
BUILDING TYPE
Covered section with an open courtyard (COC)
Covered section smaller than courtyard

DESCRIPTION
This han, an early period Islamic building, was built by the Ayyubids, not the Seljuks.
It has a covered section and a courtyard plan and included a mosque, stables, staff rooms and a hamam. As such, it displays all the features of a Seljuk han.
This han was noted by Müller in his survey done in 1920, Die Karawanserai im Vorderen Orient. He believed that the many castles built in the pre-Seljuk eras of southeastern Anatolia near Urfa were later reconfigured into hans. The Han El-Barur is believed to be one such building. This han was repaired by Sultan Giyaseddin Keyhüsrev II in the Seljuk period and continued to serve as a caravanserai during the Seljuk era. It resembles the ancient castles that were built in the Tektek Mountains near Urfa,
DIMENSIONS
It measures 43.30x44.80m.
STATE OF CONSERVATION, CURRENT USE
It was restored in 1993 and can be visited. An additional restoration of the han was undertaken in 2018 and is scheduled to be completed in 2 years, with a 6 million Turkish lira budget. It will serve as a tourism facility.
BIBLIOGRAPHIC REFERENCES
Eravşar, O. "Anatolia-Syria Caravan Road and Menzil Caravanserais in the 13th century." ARAM, University of Oxford Oriental Institute, 2007.
Müller, K. Die Karawanserai im Vorderen Orient. Berlin, 1920.
©2001-2023, Katharine Branning; All Rights Reserved.