The Seljuk Han of Anatolia
BASAKPINAR (ISPILE) HAN
---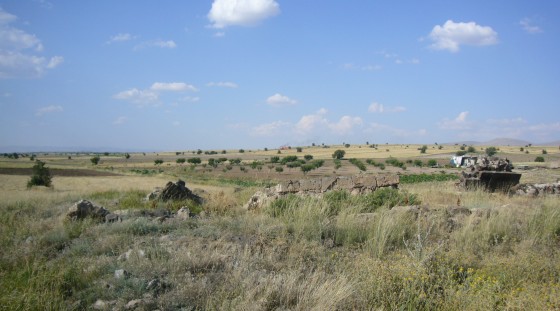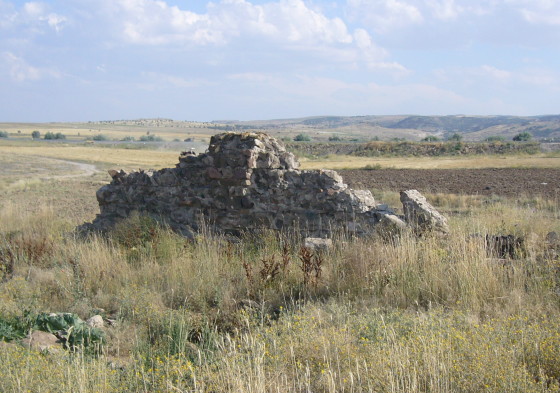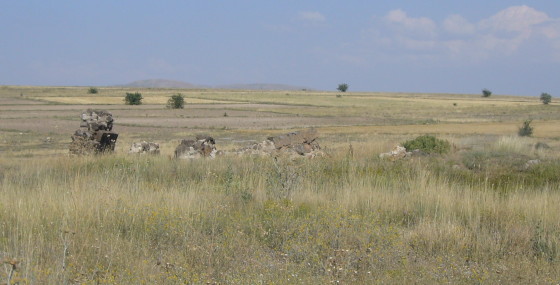 DISTRICT
38 KAYSERI
LOCATION
The Ispile Han is located 17 km from Kayseri on the Tomarza Road, to the northeast of the village of Başakpinar. It is located in the middle of a field, some 400 meters from the road, inaccessible by vehicle.
NAMES
Basakpinar Han
Ispile Han
DATE
It is dated to the 13th century. As it is located on the same road as the Kayseri Sultan Han, this han is considered a relay station, perhaps for mail and diplomatic messages.
INSCRIPTION
Due to the current ruined state of the han, it is not possible to determine if it originally had an inscription plaque.
DESCRIPTION
The majority of the walls of the han have collapsed.
It is believed that it had the covered section with an open courtyard plan, but again, the current state of the ruins make the determination of the exact plan problematic. The walls of the ruins measure approximately 18 x 49m. The entry to the han was probably from the north. There are two small rooms at what is believed to be the entrance to the covered section.
The construction was of rubble faced with finely-cut blocks of limestone. Some stones were found which were decorated with acanthus leaves and other vegetal motifs, which were perhaps a part of a crown portal. These stones are similar to examples from the Kayseri Sultan Han.
STATE OF CONSERVATION, CURRENT USAGE
The majority of the walls have collapsed. The ruins are located in the middle of a field some 500 meters from the road.
BIBLIOGRAPHIC REFERENCES
Özbek, Yıldıray & Arslan, C. Kayseri Taşinmaz Kültür Varliklari Envanteri. (Vol. 1-3). Kayseri, 2008, pp. 1169-1170.
©2001-2018, Katharine Branning; All Rights Reserved. No part of this site may be reproduced in any form without written consent from the author.