The Seljuk Han of Anatolia
SIRACAKIL HAN
---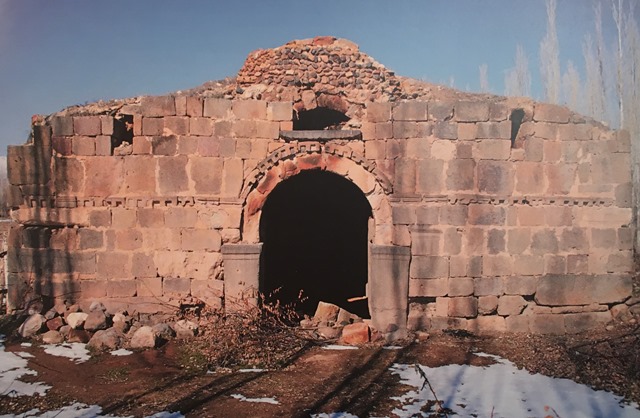 Karpuz, Anadolu Selçuklu Eserleri (2008) v.2 p. 257
DISTRICT
51 NIĞDE
LOCATION
The Siraçakil Han is located on the Bor-Aksaray Road at km 75 at turnoff for Eğreli. It is located in a field about 15 km from the Bayat village in the Altinhisar district.
BUILDING TYPE
Covered open courtyard (COC)
DESCRIPTION
The portal of the han is in good shape and has an interesting running key motif over the door arch. It has a covered hall and open courtyard plan.
BIBLIOGRAPHIC REFERENCES
Acun, H. Anadolu Selçuklu Dönemi Kervansarayları, 2007, p. 523.
Erdmann, Kurt. Das Anatolische Karavansaray des 13. Jahrhunderts, 1961, p. 150, no. 40.
Karpuz, H. & Kuş, A. & Dıvarcı, I. & Şimşek, F. Anadolu Selçuklu Eserleri, 2008, v.2 pp. 257-9.
Karpuz, Anadolu Selçuklu Eserleri (2008) v.2 p. 258.

plan drawn by Erdmann

photos by Elmon Hancer:
©2001-2018, Katharine Branning; All Rights Reserved. No part of this site may be reproduced in any form without written consent from the author.